PGME Product
Scraper traps
PGME studies and produces scraper traps allowing elements such as pigs or spheres to be introduced inside gas or oil pipeline to clean them, control them or separate them from fluids circulating in the same pipeline.
The launching and receiving stations are equipped with PGME quick opening closures with double security collars.
As an option, PGME offers scraper manipulators and handling jibs.
Several supplements are possible depending on the need:
• Valve
• Scraper manipulator trolleys
• Jib crane
• Pig signaler
• Support
• On Skid mounting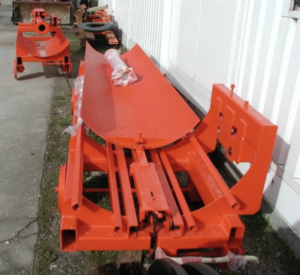 The PGME scraper insertion carriages are studied and designed to adapt to any scraper station.
They consist of a scraper extraction rod whose purpose is to collect the scraper from the station and bring it to a spreader bar where it can be cleaned and then transported in complete safety.